Nathalie Lete is a French artist who has been commissioned to create a variety of products for Anthropologie. There are several of her one of a kind pieces on their site ranging from $350 to $2,998. Those are a bit out of my price range, so lucky for me, she also has beautiful dinner plates that can be purchased for only $24!! I bought twelve of these in early summer (all in a different pattern) as I thought they would be perfect in my house whenever we have friends over for dinner. I hated to keep them put away as each one is a work of art, so they are now kept in my French cupboards that flank the fireplace. I think they would also look great as a grouping on a wall or around a mirror. And, not only are they completely affordable, they are microwave and dishwasher safe!
All images via www.anthropologie.com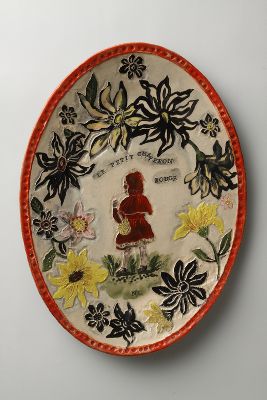 Beautiful Nathalie Lete One of a Kind Platter, $1,000.
Dinner plates, $24.